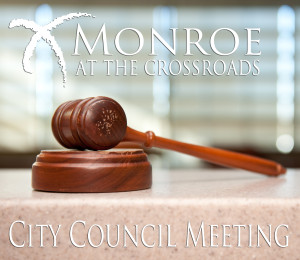 Monroe City Council
September 8, 2014
7:00 P.M.
Monroe City Hall
206 West Sherman Street
Monroe, Iowa 50170
Roll Call
Consent Agenda.
Committee and Board Reports
Monroe Recreation Park Update and discuss council expectations of the ground maintenance.
Reconsideration of the Keep Iowa Beautiful Contract.
Casey's alcohol permit renewal Class C beer, Class B wine and Sunday sales for 509 S Monroe.
Mustang Lanes request for Class B beer and Sunday sales.
Approve Old Settlers Liquor License for October 4, 2014.
7:15 Public Hearing for 2014 Water Main Project and award of contract to selected bidder.
Consider Board of Adjustment recommendation for variance of building permit property located at 501 S Monroe owned by John & Kay Van Ryswyk.
Discussion of parking concerns on E Nevada Street.
Appointment of Staci Geer to the Monroe Public Library Board.
Consideration of hiring part time office employee.
Resolution approving annual City Street Financial Report.
Resolution for Police Department hiring of Gabriel Wilson as Monroe Police Officer.
Resolution for hiring of Nicholas Chambers as Monroe Police Chief.
Ordinance for rezoning of properties located at 411 S Monroe and 501 S Monroe owned by John and Kay Van Ryswyk.
Resolution Proposing Sale and Authorizing Public Hearing for Sale of 504 North Main; Monroe, Iowa.
Establish criteria for a RFP for the sale of the City Property; Parcel Number 17.36.101.003, located west of 711 West Washington.
Approve Engagement Letter with Piper Jaffray ref the 2014 Water Main Project.
Acknowledge Disclosure Required for Issuing Bonds for the 2014 Water Main Project.
Approve Form of Term Sheet for Distribution by Piper Jaffray relating to the 2014 Water Main Project.
Resolution to fix a date for a public hearing on a proposal to enter into a loan agreement and to borrow money thereunder in a principal amount not to exceed $750,000.
Open Forum