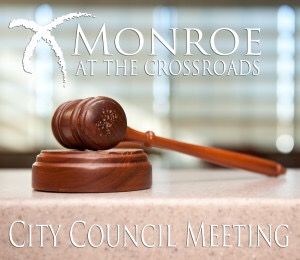 CITY COUNCIL AGENDA
MONROE CITY HALL
OCTOBER 8, 2018 7:00 P.M.
CALL TO ORDER
ROLL CALL
CONSENT AGENDA

BILLS AND MINUTES FROM THE SEPTEMBER MEETING.
CLERK AND TREASURERS REPORT.
MIKE'S LOUNGE ANNUAL LIQUOR LICENSE RENEWAL WITH OUTDOOR SERVICE AND LIVING QUARTERS.

ORDINANCES, RESOLUTIONS, AND PUBLIC HEARINGS

SECOND READING OF ORDINANCE FOR SEWER RATES.

OLD BUSINESS

DISCUSS REAL ESTATE PURCHASE BY MONROE RECREATION PARK.

NEW BUSINESS

APPROVAL OF UPDATE TO MONROE POLICE MANUAL CONCERNING IMMIGRATION ENFORCEMENT.
DISCUSS BUILDING PERMIT REQUIREMENTS FOR NEW HOMES.
CONSIDER TREE TRIMMING ORDINANCE FOR CITY OF MONROE.
DISCUSS OPTIONS FOR 2019 MOWING SEASON.

OPEN FORUM
ADJOURNMENT
ADA – IF THERE IS ANYONE WISHING TO ATTEND THE MEETING THAT MAY REQUIRE SPECIAL ASSISTANCE IN BEING ABLE TO PARTICIPATE IN THIS MEETING, PLEASE ADVISE CITY HALL WITHIN 48 HOURS OF THE MEETING.