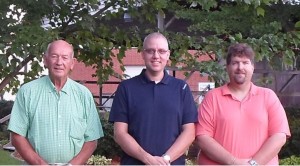 The food and monetary donations continue to roll in for the PCM Food Pantry.  As of September 15, 2014, 196 pounds of food and $275 have been donated. The money donated so far equates to 1,964 pounds for a total of 2,160 pounds on the path of the targeted goal of 3,662 pounds.
The Food Pantry Challenge continues through September. Any and all donations are welcome. Non-perishable food items that the food pantry currently needs include: Hamburger and Tuna Helper, kids' canned food (Spaghetti-Os, Ravioli, Beef-a-Roni, etc.), hearty soups, canned chicken, Spam, instant potatoes or other boxed potato dishes, jelly, pancake mix and pancake syrup. If you would prefer to make a monetary contribution instead of food items, checks can be made out to PCM Food Pantry.
-Donation box locations in Prairie City are at the Prairie City City Hall and Roberts Brothers.
-Donation box location in Reasnor is at Marilyn Walker's house, 320 3rd Street.
Her phone number is 641-793-2264.
-Donation box locations in Monroe are at Monroe City Hall, Leighton State Bank and Salon Essence.
Every contribution of non-perishable food or money will be used locally. No contribution is too small. This challenge represents a great opportunity for citizens and businesses in these communities to make a positive difference that can greatly benefit neighbors, friends and family members who could use a helping hand during their time of need.