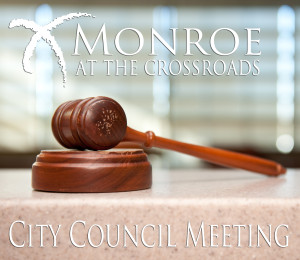 Monday, June 9th, 2014
7:00pm
206 W Sherman Street
Monroe, IA 50170
1. Roll call
2. Consent agenda
3. Committee & board reports
4. Monroe Recreation Park update
5. Consider annual request for cigarette/tobacco permits for Casey's, Monroe Foods, and the Cigarbox
6. Consider Pete's Super Value permit request for Class C Beer, Class B Wine and Sunday Sales for 216 N Monroe
7. Consider Southside Food and Spirits request for outdoor sales from August 6, to August 10th, 2014
8. Consider American Legion Post 363 permit request for Class C Liquor with Outdoor Service for 105 E Marion
9. John Halferty, Jasper County Sheriff; will discuss changes concerning calls for service
10. Presentation for Tri-County Necessity Pantry
11. Discuss Shekar Engineering report on contamination concerns at 101 S Monroe (formal Casey's)
12. Savage-Ver Ploeg & Associates Presentation of cost estimates and drawings for remodeling of existing City Hall and 101 S Monroe (formal Casey's)
13. Approval of agreement between the City of Monroe and Local 3673-7 American Federation of State and County Municipal Employees, Iowa Council 61, AFL-CIO for period July 1, 2014 to June 30, 2017
14. Resolution hiring Veenstra & Kimm, Inc. as Project Engineers for the 2014 Water Main Project
15. City annual employee evaluations – possible closed session meetings in compliance with Section 21.5(i) of the Code of Iowa
16. Officer Shane Foster request for interim Chief Compensation from August 2013 to December 2013-possible closed session in compliance with Section 21.5(i) of the Code of Iowa.
17. American Legion request for July 25, 2014 bike night.
 Open Forum