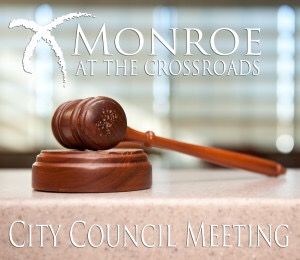 CITY COUNCIL AGENDA
CITY HALL
JULY 8, 2019, 7:00 P.M.
CALL TO ORDER
ROLL CALL
CONSENT AGENDA:

BILLS AND MINUTES FROM THE JUNE 2019 MEETING.
CLERK AND TREASURER REPORT.
MUSTANG LANES, CLASS B BEER AND SUNDAY SALES FOR 112 W. SHERMAN ST.

COMMITTEE AND BOARD REPORTS:
ORDINANCES, RESOLUTIONS, AND PUBLIC HEARINGS:

SALARY RESOLUTION FOR FISCAL YEAR 2020.
ORDINANCE FOR NO PARKING ON EAST LINCOLN STREET 100 FEET FROM THE CORNER OF INTERSECTION LOCATED AT E. LINCOLN ST. AND MECHANIC ST.

OLD BUSINESS: FRIENDS OF MONROE LIBRARY REQUEST FOR VOTE ON NEW COMMUNITY CULTURE CENTER.
NEW BUSINESS:

CONSIDERATION OF TOPOGRAPHIC AND BOUNDRY SURVEY EXPENSE FOR 416 S. BUCHANAN ST.
PAY REQUEST #3 TO WOODRUFF CONSTUCTION FOR THE WASTEWATER TREATMENT FACILITY IMPROVEMENTS PROJECT AND APPROVAL OF CHANGE ORDERS.
CJ'S BAR AND GRILL EVENT REQUEST CONSIDERATION.
CONSIDERATION OF PLANNING AND ZONING RECOMMENDATION FROM RESIDENTIAL TO COMMERICAL PROPERTY FOR 315 N. COMMERCE ST.
JASON VAN AUSDELL OF VEENSTRA AND KIMM ENGINEERING, DISCUSSION OF BUILDING INSPECTIONS FOR THE CITY OF MONROE.
ALLEY PURCHASE REQUEST.

OPEN FORUM
ADJOURNMENT
ADA – IF THERE IS ANYONE WISHING TO ATTEND THIS MEETING THAT MAY REQUIRE SPECIAL ASSISTANCE IN BEING ABLE TO PARTICIPATE IN THIS MEETING, PLEASE ADVISE CITY HALL WITHIN 48 HOURS OF THE MEETING.