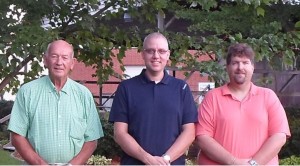 The final numbers are in and a total of 702 pounds of food and $1,171.30 as well as a number of personal toiletry and cleaning items were donated to the PCM Food Pantry through the Mayors' Food Pantry Challenge.  The money equates to 8,366 pounds of food for a grand total of 9,068 pounds, far surpassing by nearly 2.5 times, the targeted goal of 3,662 pounds of food.
The great success of this food drive is thanks to all of the local businesses, citizens and organizations that contributed to this great cause!  It just goes to show how much good can be accomplished when we all pull together.  Thank you for helping your fellow citizens in the PCM area!
Mayors Vos, Alleger & Briles are looking forward to next year's Mayors' Food Pantry Challenge and are expecting even bigger results.