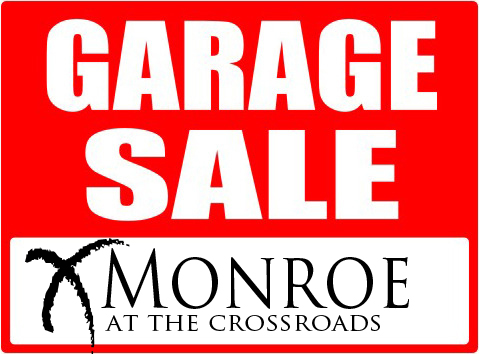 City-wide garage sales are held in Monroe twice a year.  Once in the spring and once in the fall.  They are followed up by city-wide clean up day the following week.  This is a great opportunity to get your spring and fall cleaning done!
The week of garage sales we will post a listing of all sale locations on this page as soon as they become available.  We will post notifications on this site as well as our Facebook and Twitter accounts when the listings are available!
→Spring 2019 Garage Sale Lisitings←
TERPSTRA-1957 RODEO AVENUE-girls NB-2T, boys NB-7 clothes and shoes, baby swing, Chico bouncer, strollers, kids toys, sports equipment, home décor, women's S-XL, mens M-2XL Friday 2-7, Saturday 7-12
NORTH-3852 HWY F62W-dressers, wardrobe, full bed set, mens and women's clothes, hedge trimmer, lots of misc.
GILDERSLEEVE-1326 COUNTY LINE ROAD-graduation items, Barbies, tins, books, boys and girls clothes, small round walnut table
ROZENDAAL-2064 REPUBLIC AVE WEST-Friday 4-6, Saturday all day, golf pull carts, clothes, lots of misc.
MILLER-5020 QUAIL AVENUE-bikes, lift chair, children's items, boys & girls clothes and shoes, household items, women's clothes
 JOHNSON-5716 HWY F70 WEST-girls infant-10y, boys 2T-7, toys, highchair, water table, books, shoes, adult clothes XS-XL, name brand clothes, shoes, purses, housewares, tools & accessories
SERGEANT-2208 REPUBLIC AVE WEST-roll top desk, kitchenware, linens +size clothing, cedar chest, glass cabinets, furniture, DVD's, outdoor items
VAN WYK-11349 WEST 78TH STREET SOUTH-boys clothes/shoes 3m-4 years, outerwear, household décor, women's clothes & shoes, maternity clothes, youth desks, Fitbit one/bands, toys, misc.
308 CONEFLOWER-clothing young mens xs-s, young ladies-small, home décor, coffee pot, printer, purses, books, buffet, corrugated metal, wreath, wreath storage containers
VAN RYSWYK-406 CONEFLOWER-decorative pillows, toys, 20×10 screen house tent, queen & king headboards, BKE jeans, water table, electric smoker, kitchenware, clothes girls nb to 3t, boys nb-12 mo, lots of name brand ladies and mens clothes, girls bikes
PEO-406 PRAIRIE DRIVE-if you need it, we've got it, treasures galore, good stuff, baked goods
HANSEN-101 MEADOWLARK DRIVE-home décor, household items, furniture, med youth boys clothes, teen girl clothes, small-XL adult clothes, open Friday also
MASTERSON-408 BIG BLUE STEM DRIVE-bikes, all size clothes, craft items, balance beam, CD and Wii games, lots of misc.
BRECKENRIDGE-501 WEST SHERMAN-emptied storage shed, lots of things, Tupperware, books, crochet towels, craft items, open 8-2
BUHR-603 WEST SHERMAN-girls clothes & shoes nb-4T, adult clothes, toys, movies, video games, household misc.
COMMUNITY OF CHRIST-211 WEST SHERMAN-free water & snacks 9-noon
MUNSON-405 WEST SHERMAN-moving sale with baby equipment & misc.
CARTWRIGHT-504 WEST SHERMAN-baby items, boys nb-12m, girls 3m-2T, men & women's clothes, home décor, riding mower
FEE & MOSS-215 NORTH TAYLOR-books, puzzles, movies, women's clothes, handmade Afghans, lots of misc., step ladder
WOODY & HENKENIUS-707 SOUTH TAYLOR-2 queen headboards, coffee, end & sofa tables, purses, dish sets, bedding, tons of home décor, name brand mens & women's clothes sm-3X, shoes 7 ½-12
FARVER-105 SOUTH FILMORE-boys, girls to adult 3x clothes, DVD's, homei denim days, shoes, books, deer tree stand, range finder, misc.
SHANNON-203 WEST PLEASANT-home décor, small tables, inside camper supplies, women's clothing-silvers, maurices jeans, much more.  After 2:00 fill a bag for $3
SCHAEFER-501 SOUTH JASPER-jr. thru women's clothes, mens clothes, scrapbooking, homemade dishcloths & potholders, bikes, hose reels, vb net & post, much misc.
STOCK-606 SOUTH JASPER-hutch, file cabinet, power washer, BB hoop, DVD's, clothes, misc.
LOSE-209 NORTH JASPER-traxxas, team associated, RC cars/trucks replacement upgrade parts, wheels, tires, batteries + charges priced to sell
WITT-608 WEST ADAMS-cheap stuff, adult/kids clothes, shoes, cleats, dance.  Toys, décor & more
GODFREY & FRIENDS-301 SOUTH YORK-clothes s-2X, kids 2 & up, books, furniture, 31, Isabel Bloom, spreader, kitchen items, lamps, toys, kennel, misc.
MILES-506 NORTH YORK-Avon products, Wii gaming system, girls clothes, books, shoes, much misc. 8-4
WOOD-314 WEST SOUTH STREET-moving sale, books, sewing items, riding toys, kitchen items, furniture, clothes, freezer, dolls, priced to sell
HERREMA-406 NORTH COMMERCE-moving sale, antiques, bar stools, microwave, patio table & chairs, chandelier, women's clothes, lots of misc.
WOOD & FRIENDS-216 NORTH COMMERCE-infant thru adult name brand clothes, toys especially for daycare, household items, lots of misc.
MALCOM-411 NORTH COMMERCE -32" tv, adult clothes, desk, Wii, motorcycle parts
JENNINGS/NEARMYER-101 IOWA-home décor, pampered chef, furniture, bedding, Tupperware, mens & women's clothing plus size, much misc.
WAGAMAN-414 EAST WASHINGTON-moving sale, a little bit of everything
EDWARDS-312 NORTH VIRGINIA-large variety of clothes, computer desk, lots of misc. and household items
AGAN-704 SOUTH MONROE-Levis (38-40 waist), others 38-46, Christmas dishes, baby clothes, bed spread, food processor, large deep fat fryer, much misc.
SIMBRO-809 MECHANIC-many antiques, vintage, suits & ties, bar glasses, Planters commemorative jars, Jim Beam decanters, jewelry, Hoosier vase, moon & stars frosted vase, floraline pots
MAVIS-108 DAWN AVENUE-miter saw, snow blower, pool filter, antique books, microwave, record stand, misc.
ULREY-102 DAWN AVENUE-kids 4 wheeler, JD mower, kids jeep, baby boy/girl clothes, toys, misc. home, adult clothing