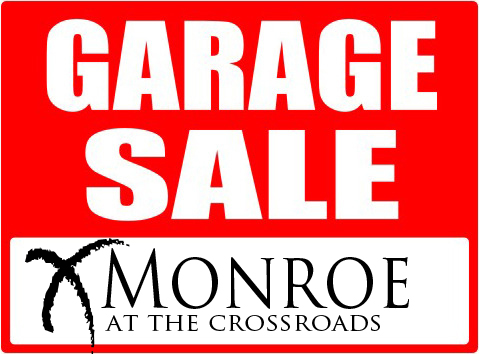 City-wide garage sales are held in Monroe twice a year.  Once in the spring and once in the fall.  They are followed up by city-wide clean up day the following week.  This is a great opportunity to get your spring and fall cleaning done!
The week of garage sales we will post a listing of all sale locations on this page as soon as they become available.  We will post notifications on this site as well as our Facebook and Twitter accounts when the listings are available!
→Fall 2018 City Wide Garage Sales are September 29th←
MALMQUIST-2147 REPUBLIC AVE (1 mile east of town) 8-2 entertainment center, balance bike, Tom Clancy books, scrapbooking, roaster, kids items, men's 46 & 48 jeans, house wares
PRICE-3576 ROSEBUD AVE-baby boy/girl clothes, toys, walker, highchairs, car seats, women's clothes, maternity, breast pump, misc.
GILDERSLEEVE-1326 COUNTY LINE ROAD-new trolling motor, Barbie's, fish finder, books, holiday décor, lots of misc.
ROZENDAAL-2064 REPUBLIC AVE WEST-young living essential oils, oak dresser, metal bed frames, metal floor registers, women's L&XL clothes, misc.
MILLER-5020 QUAIL AVENUE-boy/girl clothes, household items, tools, vintage, storage chest, pampered chef, women's clothes M-XL Friday & Saturday all day
JOHNSON-5716 HWY F70 WEST-name brand boys & girls clothing baby to size 7, toys, movies, bedding, adult name brand clothing, shoes, purses, power tools & more
ULREY-102 DAWN AVENUE-girls nb to 7/8, boys nb to 2T, adult clothes, toys, household and lots of misc.
PURVIS-110 WEST AMERICAN-house wares, antiques, clothing (women's, men's, jrs., baby girl), something for everyone
SCHAEFER-501 SOUTH JASPER-clothes-jr, women's, men's, coffee table, dorm & apartment fridge, kitchen table & chairs, men's bike, dishes & décor, much misc.
GIBSON-303 SOUTH JASPER-mums, pumpkins & gourds, patio set, refrigerator, home décor, women's clothes (XL-XXL), electronics & more
TEMPLEMAN/TOPP-304 PRAIRIE DRIVE-household items, table and nick nacs
VAN VEEN-303 PRAIRIE DRIVE-boy's clothes, athletic shoes, sports equipment, love seat, household items, women's clothes
MASTERSON-408 BIG BLUE STEM DRIVE-kids to adult clothes, books, winter coats, decorations, doll furniture, movies, lots of misc.
BRECKENRIDGE-501 WEST SHERMAN-premium crocheted towels, fudge, many boxes of Christmas floral picks, crafts, books, home décor, much misc
BUHR-603 WEST SHERMAN-girls clothes NB-3T, toys, men's clothes, household misc, tools, exercise equipment
PETTYJOHN-403 WEST SHERMAN-lots of girl's clothes, household items, items all priced to sell
GODFREY & FRIENDS-301 SOUTH YORK-toddler bed, crib, Thirty One bags, Isabel Bloom, oil lamps, movies, CDs, jewelry, 80's toys, lots of misc.
BERRY-414 SOUTH YORK-old baskets, old records & CDs, candles, dishes, jackets, old computer, magazines 1990's, old toys
DEHAAI-215 NORTH YORK-kids clothes, collectibles, toys, sporting equipment, decorative items, loveseat & chair, futon, curio cabinet, slime, tools
WILSON-805 NORTH COMMERCE-children/adult clothing, 18" flat TV, area rug, swivel rocker, seasonal décor, toys, Thirty One bags, chainsaw, antiques
HERREMA-406 NORTH COMMERCE-barn boards, craft supplies, furniture, bedding, décor, desk, filing cabinets, weed trimmer, clothes, formal dresses
THOMAS-614 SOUTH COMMERCE-household items, teen clothes, Longaberger baskets, seasonal items, treadmill, lots of misc., all must go
BEATTIE-807 SOUTH COMMERCE-girls baby clothes 0-3, 0-6 mo. summer and winter, and misc.
LEWIS-311 NORTH HONNOLD-Little Tykes table/chairs, kitchen play set, Bissell spot remover, clothes, lots of misc.
HOEKSEMA-314 EAST LINCON, UNIT 21-kids, adults, plus size clothes $.25, crafts, supplies, table, chairs, dresser, night stand, vacuums and more
HERMAN-313 EAST MARION-crafts, antiques, clothing, tools, home décor & furnishings, hot coffee
NICKELSON-212 EAST NORTH STREET-clothes – kids, teens, adult med-2XL, new toys, collectables & household items
FARVER-105 SOUTH FILMORE-boys/girls, adult clothes to 3X, purses, shoes, DVDs, hot wheels, jewelry, lots of misc.
SLOAN-210 NORTH VIRGINIA-wrestling, football, softball shoes, girls 5T, 10-12; women's S-L, men's S-L, Mustang, Packers & Broncos apparel.  8-2
JOHNSON FAMILY-201 WEST WASHINGTON-antique oak chairs, van topper, boys clothes, air hockey, games, household items
THOMAS-401 WEST WASHINGTON-autumn crafts, garland, ladder & basket décor, 2 flag windows ladder picture frame w/chicken wire, etc.
MOORE-LYNCH-109 WEST ZICKEL-wedding items, pallet household items (end tables, night stands, movie case, hutch) kids clothes/toys boys 6-7, girls 4-5, frontload W&D, SS refrigerator, lemonade stand