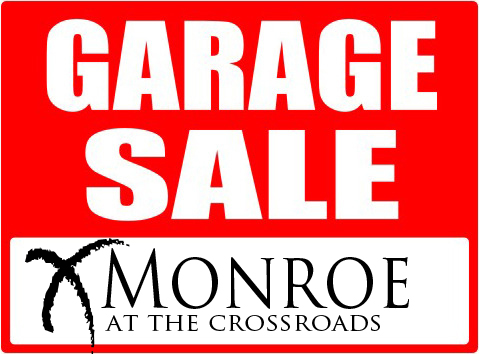 City-wide garage sales are held in Monroe twice a year.  Once in the spring and once in the fall.  They are followed up by city-wide clean up day the following week.  This is a great opportunity to get your spring and fall cleaning done!
The week of garage sales we will post a listing of all sale locations on this page as soon as they become available.  We will post notifications on this site as well as our Facebook and Twitter accounts when the listings are available!
SPRING CITY WIDE GARAGE SALE – May 5, 2018
LYONS/UMBLE-212 BEVERLY CIRCLE-furniture, kitchen table, leather davenport, antiques, decorating items, 2 seated glider, mens/womens clothes
308 CONEFLOWER COURT-Friday 4:30-6:30, Saturday 7-? Craft supplies, cookbooks, microwave, shoes, books, all size picture frames, household décor, mens/womens clothes
CONNOR-410 CONEFLOWER COURT– antique wood wall phone, collection of toy cars, canon maxify fax/copier, aluminum ramps, lots of misc.
JONES-116 DAWN AVENUE-2 family sale, baby boy to toddler items, large amount of clothes & toys, lots of misc. items
HESTON-103 DAWN AVENUE– crib, toddler bed, changing table, girls clothes NB-5, boys clothes NB-12, toys, high chair
GILDERSLEEVE-1326 COUNTY LINE ROAD-trolling motor, barbies, yard art, boys/girls clothes, silk flower arrangements, household, misc.
ROZENDAAL-2064 REPUBLIC AVE WEST-books, baskets, golf items, suitcases, coolers, storage boxes, small dresser, clothes, "our stuff can be your stuff"
SERGEANT- 2208 REPUBLIC AVENUE WEST-glass cabinets, rug sets, DVD's, linens, plus size, kitchenware, adult walker, weight set, fooseball table, misc.
MILLER-5020 QUAIL  AVENUE-boy/girl clothes NB-7, toys, household items, rocking horse and horse tack, Friday & Saturday all day
JOHNSON-5716 HWY F70 WEST-boys & girls up to size 8 name brand, toys, books, movies, bedding, adult name brand clothing/shoes including Miss Me, UA, VS. Purses, tools, patio set
BRECKENRIDGE-1200 SOUTH TAYLOR STORAGE UNIT-kids bikes, baby clothes 3m-3t, girls 6m-6, toys, 2 storage unit moving sale
FEE/MOSS-215 NORTH TAYLOR-$.25 adult clothing, DVDs, books, puzzles, some household, couch, lots of cheap stuff
SCHAEFER-501 SOUTH JASPER-some scrapbooking, clothes-jr/misses/mens/womens, coffee table, Tupperware, books, fish tanks, tv stand, much misc.
PEO-406 PRAIRIE DRIVE-childrens toys, bicycles, dining room table/chairs, kitchen tools and appliances, baked goods
408 BIG BLUE STEM DRIVE-books, games, LH golf clubs, mens/womens/kids clothes, lawn spreader, lot of misc.
BRECKENRIDGE-501 WEST SHERMAN-craft supplies, crafts, flower arrangements, jewelry, books, DVDs, VHS tapes, fudge, much misc.
BUHR-603 WEST SHERMAN-name brand girl clothes NB-3T, toys, baby items, household, tools, treadmill, misc.
GODFREY & FRIENDS-301 SOUTH YORK-antique iron wheels, infant equipment, toys, CD collections, Tupperware, iron wagon wheels, 80's toys, laundry rack, misc.
KEUNING-214 NORTH YORK-womens clothes all sizes, shoes, paperbacks, jewelry, Christmas items, stroller, misc kids items, household items
MILES-506 NORTH YORK-womens/girls clothing, shoes, books, Avon items on hand, toys, kitchen items, much misc.
PEARSON/ROUTON-511 NORTH YORK-fishing poles, cards football etc., large bird cage & perch, mens clothes xl-xxl, womens, lots of misc.
DUININK-601 WEST MARION-nice ladies clothes S-M-1X some new, portable lawn chairs, 2 filing cabinets, desk top, misc. household
DEHAAI-WADDLE-MIXDORF-BRADLEY-312 EAST AMERICAN-cradle, bikes, Christmas items, teddy bears, air conditioner, much misc.
WOLFE-302 EAST IOWA-girls under armor clothing, household misc., NFL mens clothing, jewelry, family clothing & more
BATTERSON-212 SOUTH JASPER-lots of household, sewing machine, schwinn air dyne, air compressor, band saw, shop smith, generator,  scaffolding
DIEKEMA-314 NORTH VIRGINIA-baby/toddler clothes, toys, adult female clothes, house wares, decorating items
EDWARDS-312 NORTH VIRGINIA-large misc items, Friday 1pm-?, Saturday 7:30-?
FARVER-105 SOUTH FILMORE-boys/girls clothing, adult small to 3x, solar lights, household items, lots of misc.
NICHELSON-307 NORTH FILMORE-multi family, tv, steno, up to 2T girls, boys nb-18 mo., car seat, bumbo
DAYCARE CLOSING-503 EAST LINCOLN-bicycle trainer, several size bikes, small riding toys, double stroller, baby swing, pack n play, play kitchen, kids lawn chairs, puzzles, toys, misc.
WOOD-216 NORTH COMMERCE-multi-family sale, name brand clothing infant-adult, toys, dresser, household items, misc.
PHILLIPSON-401 NORTH COMMERCE-baby stroller, walker, jumper, clothes, bedding, bicycle, VCR tapes, CD's, recliner, purses, cedar chest, jewelry armore, misc.
HERREMA-406 NORTH COMMERCE- home décor, antiques, kitchen items, new candles, new 31 bags, womens clothes, games, toys, sewing machine
EDWARDS/KINART-504 SOUTH COMMERCE-patio/yard items, holiday decorations, household items, some clothes
SIMBRO-809 NORTH MECHANIC-loads of antiques, old comic books, national geographic, tools, metal beds, suits, galvanized containers, glassware
WITT-608 WEST ADAMS-boys/girls kids clothes & shoes, tires, auto parts, electronics, womens clothes and more, cheap!
CJ'S BAR & GRILL ON THE SQUARE-AMERICAN LEGION RIDERS-misc. tools, yard art, HD clothes, womens clothes & shoes, household items, a lot of treasures
Map