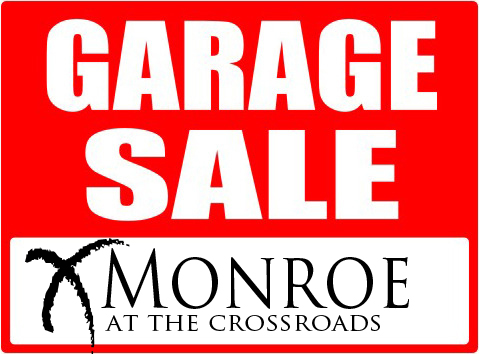 City-wide garage sales are held in Monroe twice a year.  Once in the spring and once in the fall.  They are followed up by city-wide clean up day the following week.  This is a great opportunity to get your spring and fall cleaning done!
The week of garage sales we will post a listing of all sale locations on this page as soon as they become available.  We will post notifications on this site as well as our Facebook and Twitter accounts when the listings are available!
Fall 2017 CITY WIDE GARAGE SALE Listings– September 30, 2017
MUSTANG DINER-108 W SHERMAN-outdoor picnic lunch $5.00 – beef burger or hot dog, chips & pop
215 BEVERLY CIRCLE-furniture, John Deere bike, antique sofa, knick knacks, clothing, tools
308 CONEFLOWER COURT-Friday 2-5, Saturday 7-2 cricuit, books, pictures, mission style end table, lots of home decor
VAN RYSWYK-306 CONEFLOWER COURT– Christmas tree,  lots of furniture, oak desk, grills, clothes men & women, kids NB-6, household décor, movies, bread machine, open Friday 12-5
WOODY-707 SOUTH TAYLOR-moped, outdoor gas pizza oven, train table with tracks & trains, Barbie house, toys, boys & girls clothes 4T-14, mens & womens clothes small-2X
ULREY-102 DAWN AVE – baby-toddler, women & men clothes, kids toys, kitchen/household items, home décor, tools
GILDERSLEEVE-1326 COUNTY LINE ROAD-recliner, yard art, 2 man boat w/trailer, clothes hamper, Barbies, Dale Jr. cars, boys clothes, misc.
ROZENDAAL-2064 REPUBLIC AVE WEST-golf items, oak dresser, jewelry, tools, books, baskets, dishes, coolers, desk, décor, jackets, teen jeans
2147 REPUBLIC AVENUE-1mile east of Monroe-Friday 3-7, Sat 8-12, house wares, baby items, stroller, pack-n-play, high chair, futon, roaster, mixer
ROORDA-7929 HWY F70 WEST-boys clothes, winter coats, snow pants, sports gear, bikes, books, home & seasonal décor, bunk beds
JOHNSON-5716 HWY F70 WEST-boys & girls up to size 8, shoes, costumes, bedding, toys, adult clothing, shoes, purses, tools and more. Coach, Under Armour, Nike, VS, Gap, Pottery Barn
405 PRAIRIE DRIVE-furniture, adult & kids clothing, mens, athletic shoes-baseball, basketball, football & golf, toys, misc.
408 BIG BLUE STEM DRIVE-kids to adult clothes, household misc., assorted tools, sofa table, books, CD's, misc.
FEE/MOSS-215 NORTH TAYLOR-movies, puzzles, books, plus size clothes, kitchenware, Qflannel sheets, knitted & crocheted items, treadmill, misc.
SLOAN-210 NORTH VIRGINIA– 8-2weight bench/weights, 31, Under Armor, Nike, Adidas basketball, wrestling shoes, kids winter, holiday
713 NORTH OAK-1 box laminate flooring, wall paper & some tools, backsplash tile, many cookbooks, football & basketball cards
CURRIER-812 NORTH COMMERCE-Louis L'Amour books, puzzles, record albums, Tupperware, blankets, household items, misc.
SIMBRO-809 NORTH MECHANIC-estate sale with antiques, linens, tools, vintage ash trays, misc.
307 NORTH FILMORE-baby/toddler boys & girls clothes, baby swing & bouncer, +size clothing, exercise bike, kid bed safety rails
605 EAST WASHINGTON-barn boards, old wooden gates, antiques, collectables, old records, old games, wood working tools, misc.
106 EAST WASHINGTON-most everything 50% off, excludes orange tags, furniture & electronics
313 EAST MARION-household décor, women's clothing, purses, shoes, wedding decorations, antiques, misc.
210 EAST IOWA-dining room table & chairs, couch, loveseat, bed, dresser, desk, kitchen items, household items
701 WEST WASHINGTON-6 drawer chest with 2 night stands, desk w/chair, home décor, clothes for all, misc.
VAN ZANTE-116 WEST WASHINGTON-you name it, we probably have it
107 WEST MARION-multi-family-baked goods, XL/16 clothing, furniture, makeup, purses, artwork, DVDs, household items, misc., low prices
403 WEST SHERMAN-furniture, electronics, PCM gear/clothes, name brand clothes s-2xl, priced cheap, something for everyone
501 WEST SHERMAN-lots of craft items & supplies, boys shoes, Tupperware, household items, homemade fudge, florals, Christmas items
503 WEST SHERMAN-ISU table & bar stools, love seat, collectible/stuffed koala bears, magazines, kitchenware, Christmas items, misc.
110 WEST AMERICAN-clothing, shoes, toddler girl clothes, household items, books, misc., something for everyone
510 WEST AMERICAN-Open 8-12 holiday décor, santa claus collection, misc. home items, costume jewelry
WILLIAMS-606 WEST SOUTH ST-lots of household items
212 WEST MILLS-kids clothes, toys, wedding items, shoes
615 WEST SOUTH STREET-baby boy clothes, toys, table clothes, Lularoe clothes, womens swim suits, boys bike, misc.
205 WEST ZICKEL-cheap DVDs, blu-rays, men & women clothes, shoes, washer & dryer, kitchen utensils, fresh vegetables
212 SOUTH JASPER-household, clothing, twin bed complete, toys, set of golf clubs, fishing stuff, kangaroo golf cart
FARVER-105 SOUTH FILMORE- boys/girls/adult clothes to size 3x, household items, toys, misc.
603 SOUTH JASPER-multi family- kid-adult clothing, Wii console & games, yard games, seasonal decorations
410 SOUTH BUCHANAN-small little tykes picnic table, toys, legos and lego table, jeans, 6 qt. pressure cooker, queen bedding
101 IOWA STREET-housewares, holiday Barbies, womens 2-3x clothes, cookbooks, purses, shoes, jewelry, misc.
12015 HWY S6G CHURCH OF THE BRETHERN-multi family sale to benefit church ministries, something for everyone, lunch available, 6 miles west of Monroe
Map