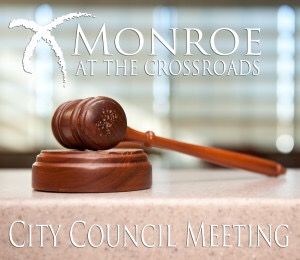 Monroe City Council
October 9, 2017
7:00 P.M.
Monroe City Hall
206 West Sherman Street
Monroe, Iowa 50170
Consent agenda
Committee and board reports
Consideration of Mike's Lounge Class C Liquor License with Outdoor Service and Living Quarters for 114 E Washington
Monroe Hometown Pride- Keep Iowa Beautiful Presentation
Consider purchase of new slide for Monroe Public Library playground
Discuss City Administrator Position
Discuss potential hiring of 4th Officer for Monroe Police Department and possible permission to hire applicant
Review and consider purchase agreement between the City of Monroe and Rozendaal Tiling, Inc. for 314 W Marion Street
Resolution proposing conveyance and authorizing public hearing on sale and conveyance of 314 W Marion Street, Monroe, Iowa, to Rozendaal Tiling, Inc.
Resolution authorizing transfer of funds
2nd & 3rd reading of ordinance increasing Mayor compensation
2nd & 3rd reading of ordinance increasing Council compensation
3rd reading for Ordinance amending Chapter 41.12 of the Monroe City Code of Ordinances concerning the use of Fireworks
Resolution to adopt amended Chapter 41, Section 41.12 providing for the use of consumer fireworks
Citizen request for review of building permit for garage located at 510 N York Street.
Citizen request for vacation of driveway located at 501 N Oak Street.