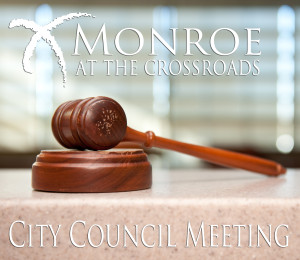 Monroe City Council
May 11, 2015 7:00 P.M.
Monroe City Hall
206 W Sherman
Monroe, IA 50170
Roll call
Consent agenda
Committee and Board reports
Monroe Recreation Park update
7:15 p.m. Budget Amendment Hearing and approval of Resolution No. 10-2015
Approval of Southside Food and Spirits permit request for outdoor service from May 28, 2015 to October 30, 2015
Consideration of Monroe Liquor's Class E Liquor, Class B Wine and Class C Beer and Sunday sales yearly renewal license for 105 W Sherman
TelePharm Pharmacy Presentation for possible Monroe location
Discuss nuisance abatement assistance from Veenstra & Kimm Engineering
Consider dust control estimates for Oak, Mechanic and Rosebud Street
Acceptance of property from Jasper County between Lincoln and Washington Street for use of recreation trail
Consideration of date change for July regular council meeting
Set special meeting date and time for employee evaluations
Discussion of yearly increase in utility rates
Discuss project initiation meeting with Iowa Department of Natural Resources concerning Wastewater Treatment Facility Project
Consider Resolution 11-2015, approving additional principal payment to Central Iowa Rural Water
Consider Resolution 12-2015, approving Local Option Sales Tax Distribution and Council permission to put on November voting ballot.
Award request for proposal for 402 East Washington Street
Consider Resolution 13-2015 proposing the sale and authorizing the public hearing date for the sale of 402 E Washington Street
Award request for proposal for 613 North Oak Street
2nd and 3rd Reading of Ordinance amending Chapter 55 of the City of Monroe, Iowa, Code of Ordinances concerning animal protection and control of dangerous animals.
Consideration of support for the Jasper County Conservation's opportunity to purchase the 23.64 acres with a pond near Highway 163 and Quicksilver Ave.
Approval 1st pay request for $17,663.54 to Neuvirth Construction for 2015 Water Main Project
Consider Resolution 14-2015, approving transfer of funds within the City of Monroe.
Open Forum