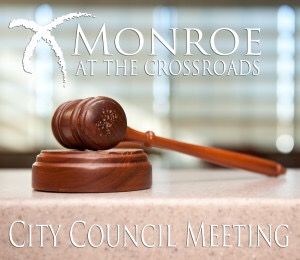 CITY COUNCIL AGENDA
CITY HALL
AUGUST 12, 2019, 7:00 P.M.
CALL TO ORDER
ROLL CALL
CONSENT AGENDA:

BILLS AND MINUTES FROM THE JULY 2019 MEETING.
CLERK AND TREASURER REPORT.
CJ'S BAR & GRILL, CLASS C LIQUOR, OUTDOOR SERVICE AND SUNDAY SALES FOR 105 EAST MARION.

COMMITTEE AND BOARD REPORTS:
ORDINANCES, RESOLUTIONS, AND PUBLIC HEARINGS:

PUBLIC HEARING FOR PURCHASE OF EAST/WEST ALLEY IN BLOCK 21.
1ST, 2ND, & 3RDREADING ORDINANCE VACATING AND DISPOSING OF CERTAIN REAL ESTATE CONSISTING OF THE EAST/WEST ALLEY, LOCATED IN BLOCK 21, ORIGINAL PLAT, MONROE, JASPER COUNTY, IOWA.
2NDAND 3RDREADING OF ORDINANCE FOR NO PARKING ON EAST LINCOLN STREET FROM THE CORNER OF N. MECHANICS STREET TO APOINT 100 FEET ON THE NORTH SIDE OF EAST LINCOLN STREET.
RESOLUTION ASSIGNING ADDRESS FOR 901 EAST COLFAX STREET.
RESOLUTION ADOPTING FEE SCHEDULE AND 28E AGREEMENT WITH JASPER COUNTY FOR BUILDING INSPECTION SERVICES.
RESOLUTION APPROVING PLAT 2 OF THE MEADOWS AT MONROE.
RESOLUTION APPROVING TRANSFERS WITHIN THE CITY OF MONROE.
RESOLUTION CHANGING THE DATE OF THE SEPTEMBER 2019 COUNCIL MEETING.

OLD BUSINESS:
NEW BUSINESS:

CONSIDER STREET CLOSING REQUEST FOR OCTOBER 5, 2019.
CONSIDERATION OF APPROVAL OF CHANGE ORDER NO. 1 AND PAY ESTIMATE NO. 4 TO WOODRUFF CONSTRUCTION, LLC FOR THE WASTEWATER TREATMENT FACILITY IMPROVEMENTS PROJECT.
CONSIDERATON OF PAY REQUEST NO. 2 TO GRIMES ASPHALT FOR THE WEST LINCOLN STREET PROJECT.

OPEN FORUM:
CLOSED SESSION DISCUSSION UNDER CODE OF IOWA 21.5(h)(i).
ADJOURNMENT
ADA – IF THERE IS ANYONE WISHING TO ATTEND THIS MEETING THAT MAY REQUIRE SPECIAL ASSISTANCE IN BEING ABLE TO PARTICIPATE IN THIS MEETING, PLEASE ADVISE CITY HALL WITHIN 48 HOURS OF THE MEETING.